Interview with Fernando Decillis by Jain Lemos. Home page cover photo © Fernando Decillis.
© Fernando Decillis
Hailing from Uruguay, and settling in Atlanta at age 10, Fernando Decillis took up photography as a career after his immigration status prevented him from attending college on a football scholarship. Maybe the visual deities had a better plan for Fernando as he's now an award-winning photographer working with yards of famous clients. In 2018, he took first place in two different APA National Awards categories: Celebrity/Musician and Documentary/Editorial. Typically, the same person won't be selected for first place in two fields for the same year. I'm told Fernando's scores were so high, they couldn't be ignored.
Fernando certainly has a gold-star formula for depicting all types of people. On his website, he showcases an instantly noticeable and exceptional style of portrait and storytelling photography. But this is what is more noticeable: As you go through the images it's clear he has photographed superstars, and while many photographers would lead with a prominent "CELEBRITY" tag, Fernando doesn't even list celebrity as a specialty. Instead, the farm worker, the protestor, the kids—and Matthew McConaughey—are all presented equally. I felt an immediate yearning to know more about who is behind this lens.
How were you introduced to photography and when did you begin to take it seriously as a way to make a living?
When I was 21, I was going to Borders and picking up photography books. That's when the learning process started, but I'm still learning (he laughs). I'm more of a "show me how to do it" person than a "read about it" person, so I wanted to take classes. I signed up for an intro to photography class at Showcase, a local camera store in Atlanta.
There, I learned how to work a 35mm camera from photographer David Knox. Then, I took a second class with him. At the end of that class, David asked me what I was doing with my life. I wasn't sure. I had no clue photography could be a career. He suggested that I think about making photography my career. I don't remember if I thought this to myself or if I said it to him, but I remember thinking, "How in the world can I make a living taking pictures?"
Was there another occupation you were drawn to before this?
My life plan coming out of high school was to go to college on a football scholarship. I was a kicker for my high school football team, and I was lucky to have a coach who really believed in my ability. He made a reel and submitted it to all kinds of universities; scouts came to our games to watch me kick. As a result, I received letters of interest and scholarship offers from some universities.
Back then, DACA wasn't a thing. (Deferred Action for Childhood Arrivals is an immigration option for undocumented immigrants who came to the United States before the age of 16.) During the admissions process for the school I chose, I was told that as an illegal alien, I was not eligible for an athletic scholarship. I moved to the US with my parents when I was 10 and they applied for their papers as soon as they got here, but as a minor, I had to wait for their citizenship to be granted before I could apply. Their legal residency with a path to citizenship came through right around the time I was graduating from high school. Mine would take another five years. I felt like I missed my opportunity to go to college.
A year went by after the photography classes and I kept thinking about what David Knox said. I went on taking pictures with the little knowledge that I had. I'd shoot portraits of my family and fashion stories with my friends. I kept reading photography books. On the suggestion of a friend, I checked out Portfolio Center's photography program. Then, finally, my residency came through. The first thing I did was go to Portfolio Center to square away my funding for their two-year program in photography.
Wow. I'm continually amazed at how life-changing these delays can be. What was the experience like for you at Portfolio Center?
Walking into the halls and seeing the other students' work was so intimidating. I thought I would never be able to make pictures like this. Self-doubt set in deep. I wasn't sure how it was going to go. I guess I'm still not sure how it's going.
Portfolio Center taught me how to follow through with assignments. I had to execute my ideas. I couldn't afford to wait until everything was perfect—I had to problem solve on a timeline to make images and accept the outcome. I learned about the history of photography and was introduced to some of my favorite photographers. I got to put what I was doing naturally into a bigger context and dive deeper into the aesthetics that interest me. All the teachers were working professionals. It was really inspiring to learn from people who made a career doing what I was learning. I knew they knew what they were talking about.
There is so much going on in your photographs; so much to look at. Tell me how this image came together so perfectly.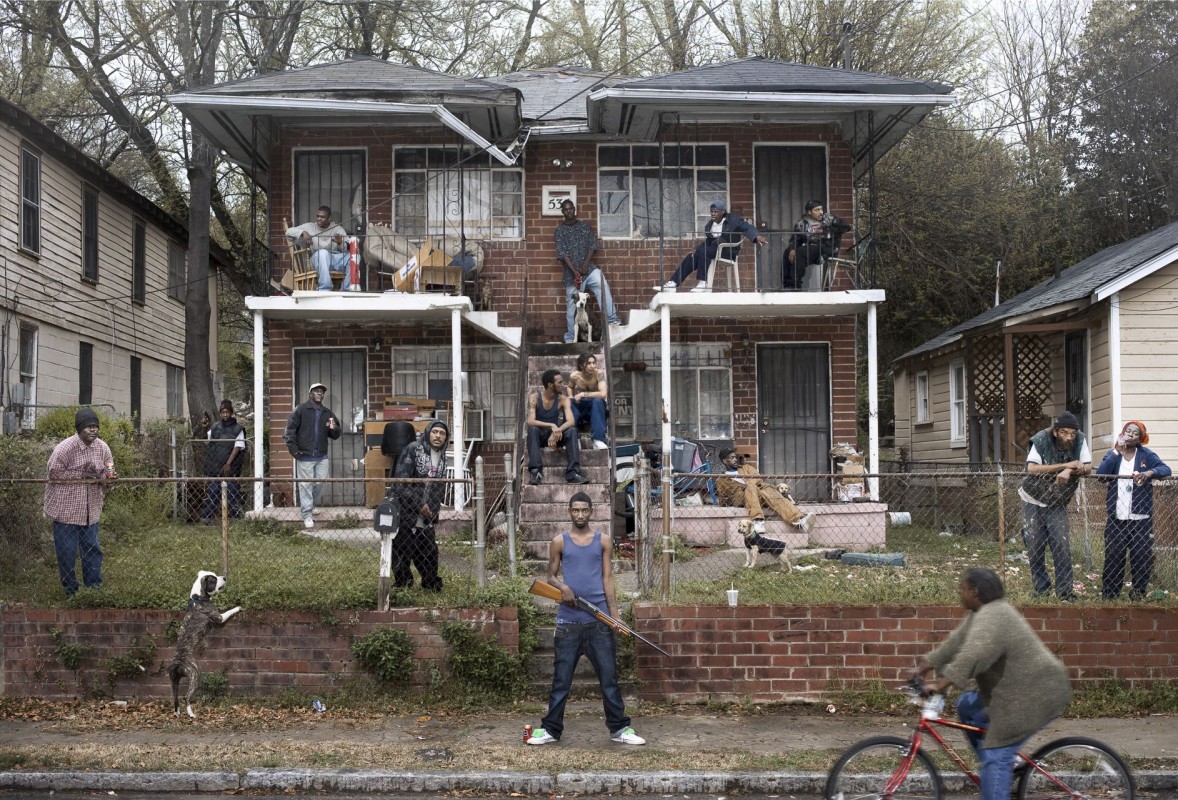 © Fernando Decillis
This was shot for Snow on tha Bluff, a feature film on Netflix. The director of the film wanted me to photograph the main character, Curtis Snow (seen with the rifle and blue shirt), in front of this house in an area of Atlanta called Tha Bluff in Vine City. When I started firing off frames, the photo felt like it was missing something. I told Curtis that I wished the porches were full of people, and he disappeared down the street almost immediately after saying he'd be right back. A few minutes later, he came back with a group of people, and I started directing them where to go. The dogs just kind of did what they wanted, and the lady riding by on the bicycle was just a happy accident. I merged a few different frames together to get the composition right. The entire process was very improvised, but it worked out beautifully.
And in this photo, I can see it took a ton of work. What message were you trying to convey?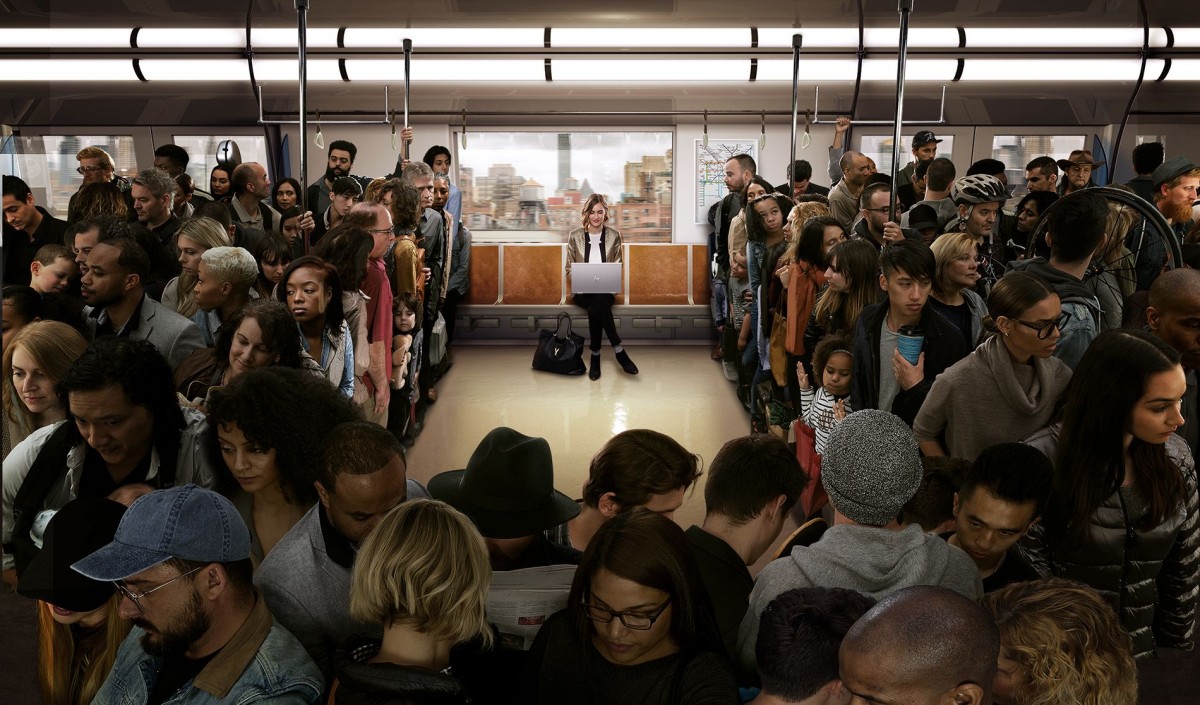 © Fernando Decillis
This was taken for an ad I worked on with BBDO San Francisco for Hewlett Packard's privacy screen. The client wanted to convey an invisible wall around the laptop user to highlight the effectiveness of the product. This was a pretty big production, so a lot of planning and pre-production went into getting all of the elements correct.
Of course, every production has the potential to throw a curve ball. We mocked up the bones of a subway out of plywood and had the amazing artist Ricardo Salamanca create a CGI (computer-generated imagery) train. We had to have a real barrier between the 50 background players and the principal talent so they were pushing up against something. We built plexiglass walls, which made lighting tricky. We shot the middle and side frames separately to create a continuous line without distortion. We moved some of our background people around to make the train seem more crowded. The project was a really fun, creative challenge with a great agency-client team supported by L Two Productions in Atlanta.
What was it like returning to Uruguay for your personal project, "Patria Gaucha"?
I had been back to Uruguay twice since coming to the US. This was the third time, and it was scary, because I was there with a purpose and I felt a ton of pressure to make this project meaningful. It was a trip I've always wanted to take—to make pictures of Uruguayan gauchos. There's something immense about a man who can live freely off the land. I've admired the gaucho lifestyle since I was a boy. I'm happier with the fact that I went and did it than with the images that came out of it.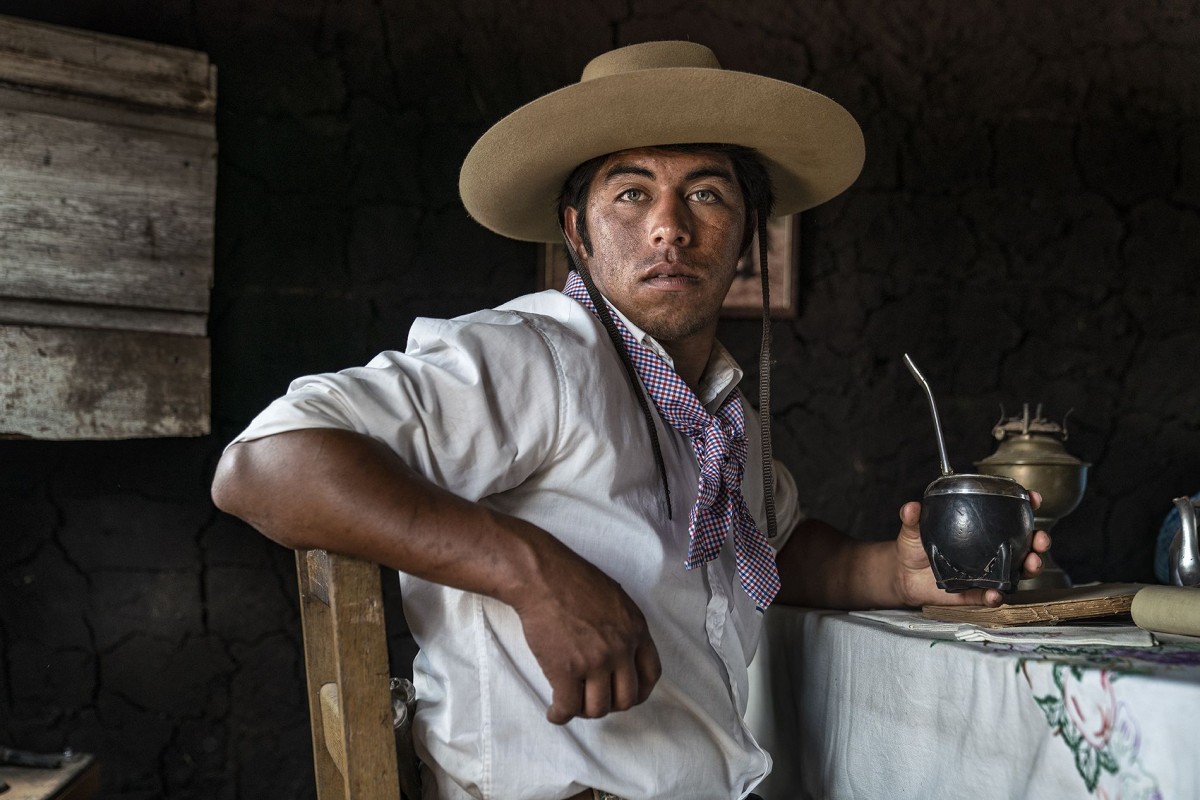 © Fernando Decillis
Is there more storytelling you'd like to do about your native land?
The experience was satisfying my inner child in a way, and I'd like to go back many more times. I want this to be an ongoing project. There's a lot to be learned from the people who have such direct relationships with the animals and land that sustain them. The last time I went, I focused mostly on getting intimate environmental portraits of the gauchos I met. Which is actually not very easy because gauchos live very solitary, stoic lives and work hard during the daylight hours. They don't trust strangers or waste time. Next time, I'd like to spend time with one family at their ranch and show more day-in-the-life images.
Is there anything else you've been wanting to shoot but haven't had the chance to yet?
My dream is to make conceptual key art for the History Channel, AMC, Netflix, HBO… some of the networks that have really outstanding cinematography. I'd like to collaborate more on ideas with creative directors to convey big concepts with single images.
What about moving into film? Are there any types of cinematography that have impressed you?
I worked as the DP on an independent film with an Atlanta filmmaker. It's a sort of psycho thriller about opioid addiction. I'm open to doing more collaborations with film. I'm drawn to that work naturally and tend to create imagery that is or could be real. I like to infuse reality with something that gives it a haunting magical feel.
I recently saw the film We The Animals directed by Jeremiah Zagar. I'd love to shoot something that has the documentary feel of this film, with lots of handheld shots, sculpted light, and careful editing. I also love Emmanuel Lubezki's cinematography for The Revenant. His use of ambient light to convey feeling was really artful. The careful planning of the production to execute the shots at the perfect hour to steep the film in magic light was impressive.
Do you have a photographic philosophy or signature that you put into every shot or is your approach more fluid and intuitive?
I like to start out with a good idea and a good concept and let life happen. I photograph people, and people can be unpredictable—and that's what makes it beautiful. Sometimes it makes the shot to just put people in an environment, then give them something or someone to interact with, and then let them be and see what happens.
Like the shot I recently made of the family on the beach. The idea was to have the kids sneaking the junk food right under their parents' noses, but I didn't plan for their dad to be waiting in the wings with a healthy snack, or for the older daughter to be calling them out. Those things just happened.
© Fernando Decillis
I like to live in the space between staged and documentary. If I know exactly what I want, I'll go in and get what I want. But often, just a little spark of something great happens when I leave the environment open for accidents. I'm always hoping for a happy accident. I don't try to control the environment so much so that authentic moments can't find their way in. I want people to emote, to be themselves, to connect how they naturally do, but I also want there to be a substantial story.
See more of Fernando's work on his website and on Instagram: @fernando_decillis.